Bus from St Louis to Dallas
Book your bus ticket to Dallas from St Louis today
Why travel with megabus?
Megabus RIDE onboard entertainment*
* Subject to availability
St Louis to Dallas bus details
St Louis
All megabus.com arrivals and departures in St. Louis are located at Bay #10, at the Gateway Multi-modal Transportation Center, located at 430 South 15th Street. All customer access and Drop off and pick up is available at the main entrance located at Poplar St. & 15th. Parking is available nearby. NOTE: For customer safety, no cars are allowed near the bus bays, and there is no access to the terminal from the Spruce St. side.
Dallas
There are two megabus stops in the Dallas/Fort Worth area. The stop for arrivals and departures in downtown Dallas are located at the DART East Transfer Center, 330 North Olive Street. Megabus will arrive and depart from docks H and I. No personal cars are allowed on the property and are subject to tickets/towing for violation of this. The stop for arrivals and departures in Grand Prairie is at 710 Davis St. An indoor waiting area with restrooms are available. BE CAREFUL! Check your reservation for the exact location and time of departure. Platinum Parking has several parking facilities nearby the downtown Dallas stop that provide affordable public parking for passengers departing from the Dallas stop. Overnight parking is available at the lots located at 2001 Elm Street (Lot #175) and 2100 Elm Street (Lot #185). Visit www.platinumparking.com for more details.
Plan your bus trip to Dallas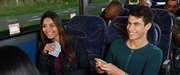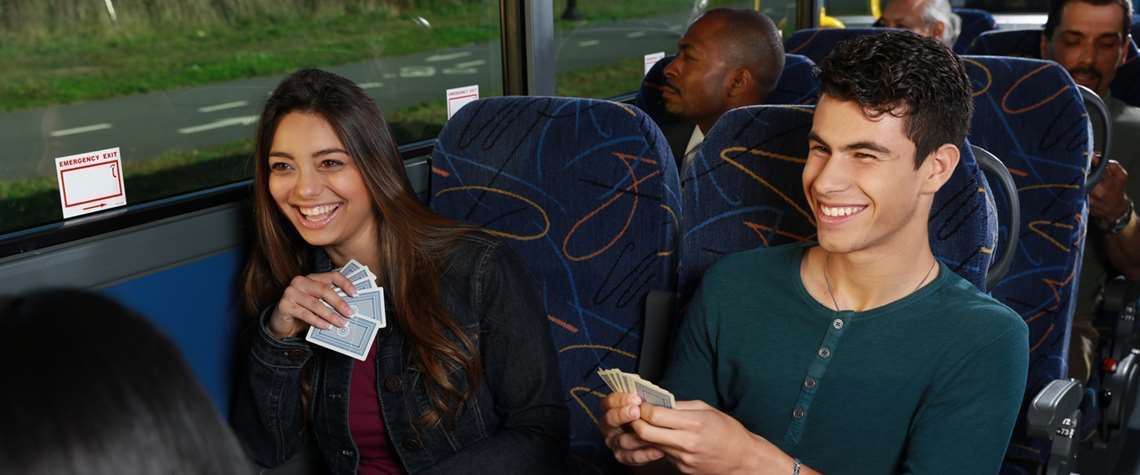 Our Buses
We are very proud of our fleet of state of the art buses.
Free Wi-Fi onboard
Megabus RIDE onboard entertainment*
Individual power outlets*
Reclining seats
Reserved seating
Onboard Restrooms
* Subject to availability
Frequently Asked Questions