Bus from Cleveland to New York
Book your bus ticket to New York from Cleveland today
Why travel with megabus?
Megabus RIDE onboard entertainment*
* Subject to availability
Cleveland to New York bus details
Cleveland
The megabus.com stop for all arrivals and departures in Cleveland is located at the Stephanie Tubbs Jones Transit Center and the intersection of 22nd St and Prospect Avenue, at 2115 East 22nd Street. The buses will pick up in Lane A at Stop 3. Cars can not enter the Transit Center, but paid parking is available nearby and free parking for 15 minutes is available on Prospect. The Transit Center can be accessed by the E Line Trolley with free service for a smile from Tower City Monday to Friday as well as other transit lines. Details are available on www.riderta.com.
Plan your bus trip to Cleveland
New York
The stop for most departures is located on 34th St between 11th Ave and 12th Ave across the street from the Javits Center. Please check your ticket for the correct departure location!
The stop is one block west of the Hudson Yards station at the end of the number 7 subway line. The stop is three blocks west of Penn Station and the 34th St - Penn Station subway stop that is served by the A, C, and E trains. The 34th St stop is adjacent to the MTA bus stop that is served by the M34 line.
Our arrivals are located at the intersection of 7th Ave and 27th St.
Departures and arrivals for Binghamton, Cleveland, New Brunswick, and Princeton are located in the Port Authority Bus Terminal on 42nd Street and 8th Ave. Please follow instructions included on your confirmation if you are traveling to New Brunswick, Princeton or Binghamton.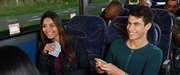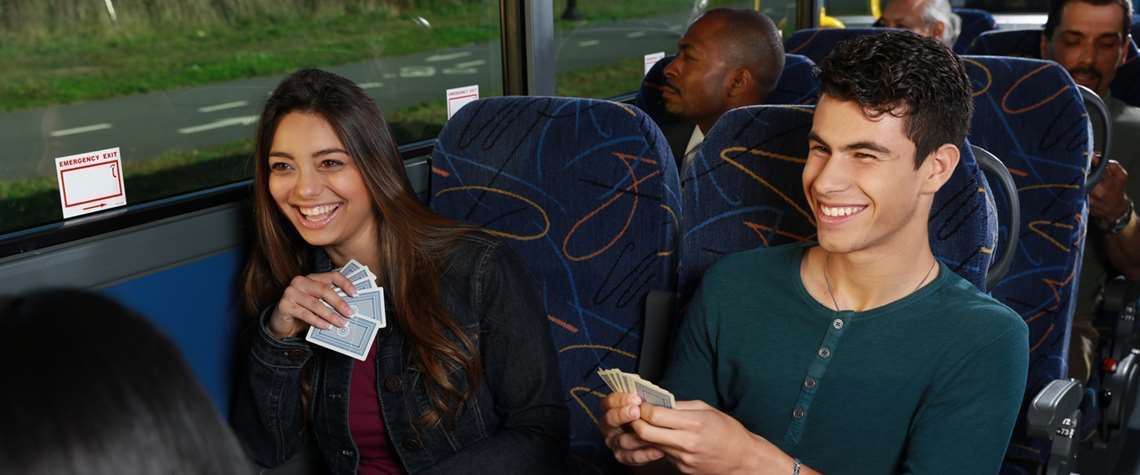 Our Buses
We are very proud of our fleet of state of the art buses.
Free Wi-Fi onboard
Megabus RIDE onboard entertainment*
Individual power outlets*
Reclining seats
Reserved seating
Onboard Restrooms
* Subject to availability
Frequently Asked Questions